Posts for tag: gum disease
By David J. Adams, DMD, MS, PA
February 03, 2019
Like other aspects of our lives, aging can take a toll on our smile. Over a lifetime the effects of disease, teeth wearing and the foods we eat can cause our teeth and gums to look unattractive.
Here are 3 of the most common age-related dental problems and how we can help you "turn back the clock" on each one.
Discoloration. Teeth can dull and grow darker over time. And not just from what we eat or drink—age-related structural changes in the tooth can also cause discoloration. We can often alleviate external staining temporarily with teeth whitening. If the staining is heavy or it originates inside the tooth, then we can install life-like porcelain veneers or crowns to cover the discoloration. We can also use composite dental materials to alter the color of one darkened tooth so that it doesn't stand out from the rest of your teeth.
Wearing. Our teeth naturally wear down over time. If the wearing is excessive, though, teeth can look shorter and less youthful. Again, we can use veneers or crowns to change a tooth's outward appearance and make them look longer. We can also employ enamel contouring and reshaping that smoothes out sharper edges caused by wearing to give your teeth a softer, more youthful look.
Receding gums. On the other end of the spectrum, gums that have shrunk back or receded from the teeth can make them look much larger and unattractive. Our first step is to treat any gum disease present—the most common cause of recession—which often helps the tissues to regenerate. If your case is more advanced, though, you may also need grafting surgery to restore lost gum tissue. Using in-depth microsurgical techniques, surgeons attach grafted gum tissue at the recession site. Over time new tissue will grow, restoring adequate gum coverage.
You can also improve your appearance at any age with orthodontics. Besides a more attractive smile, properly aligned teeth tend to wear more slowly and evenly. This and proper daily oral hygiene and regular dental care can keep your teeth looking younger even in your later years.
If you would like more information on gaining a more youthful smile, please contact us or schedule an appointment for a consultation. You can also learn more about this topic by reading the Dear Doctor magazine article "How Your Dentist can help you Look Younger."
By David J. Adams, DMD, MS, PA
August 10, 2017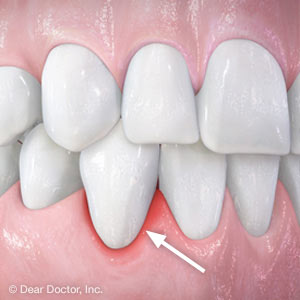 Teeth-replacing dental implants not only look life-like, they're made to last. For one thing, the metals and dental materials used in them are impervious to bacterial infection.
But that doesn't mean implants are impervious to failure. Implants depend on the bone and other natural mouth structures for support. If the bone becomes weakened due to disease, the implant could become unstable and ultimately fail.
Peri-implantitis, the condition that can lead to this kind of failure, is a major concern for implant longevity. It's a type of periodontal (gum) disease triggered by plaque, a thin film of food particles that can build up quickly in the absence of adequate brushing and flossing. The gum tissues around the implant become infected and inflamed.
If the infection isn't properly treated with renewed oral hygiene and clinical plaque removal, it could spread below the gum line and begin to damage the underlying gum tissues and bone. This could destroy the all-important connection between the titanium implant post and the bone. The implant could eventually loosen and become completely detached from the bone.
The key is early intervention before the bone becomes damaged. Besides plaque removal we may also need to apply antibiotics in some form to control the growth of disease-causing bacteria. If the disease has fairly advanced we may also need to consider surgical repair to strengthen the attachment between implant and bone.
You can help to avoid peri-implantitis altogether by practicing consistent daily brushing and flossing around all your teeth including the implant, and seeing your dentist at least twice a year for cleanings and checkups. And by all means see your dentist if you notice any signs of gum swelling, redness or bleeding. Staying on top of your gum health will help not only the natural tissues and remaining teeth in your mouth, it will help preserve your implants for decades to come.
If you would like more information on maintaining your dental implants, please contact us or schedule an appointment for a consultation.