Posts for: September, 2021
By David J. Adams, DMD, MS, PA
September 20, 2021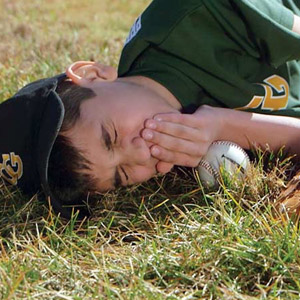 Accidents do happen, especially if you or a family member has an active lifestyle. One such risk, especially for someone playing a contact sport, is having a tooth knocked out.
But as extreme as this injury can be, it doesn't necessarily mean the tooth is lost forever. Gum (or periodontal) cells remaining on the tooth root can regenerate and regain their attachment with the periodontal ligament that holds teeth in place. But you have to act quickly—the longer the tooth is out of the socket, the more likely these cells will dry out and die.
So, by doing the following within 5-20 minutes of the injury (and the earlier the better), that knocked-out tooth has a reasonable chance of survival.
Locate and clean the tooth. Your first priority is to find the missing tooth and clean it of any debris with clean water. Be sure not to touch the root of the tooth and only handle the tooth by the crown (the visible part of a tooth when it's in the mouth).
Insert the root end into the empty socket. Still holding the tooth by the crown, insert the opposite root end into the empty socket. Orient the crown properly, but don't worry about getting it in just right—the follow-up with the dentist will take care of that. You will, however, need to apply some pressure to get it to seat firmly.
Secure the tooth. Place a piece of clean gauze or cloth between the reinserted tooth and its counterpart on the other jaw. Then, have the person bite down on the cloth and hold it. This will help secure the tooth in place while you travel to the dentist.
Seek dental care immediately. It's important to see a dentist immediately to adjust the tooth's position and to possibly splint the tooth to better secure it while it heals. If a dentist isn't available, then visit a local emergency room instead.
Taking these actions on the scene could mean the difference between saving and losing a tooth. But act quickly—the sooner you initiate first aid for a knocked-out tooth, the better its chances for long-term survival.
If you would like more information on what to do during dental emergencies, please contact us or schedule an appointment for a consultation. You can also learn more about this topic by reading the Dear Doctor magazine article "When a Tooth is Knocked Out."
By David J. Adams, DMD, MS, PA
September 10, 2021
There are plenty of hilarious videos of groggy patients coming out of wisdom teeth surgery to keep you occupied for hours. While many of these have turned everyday people into viral video stars, every now and then it really is someone famous. Recently, that someone was Seattle Seahawks quarterback Russell Wilson.
The NFL star underwent oral surgery to remove all four of his third molars (aka wisdom teeth). His wife, performer and supermodel, Ciara, caught him on video as he was wheeled to recovery and later uploaded the clip to Instagram. As post-wisdom teeth videos go, Wilson didn't say anything too embarrassing other than, "My lips hurt."
Funny videos aside, though, removing wisdom teeth is a serious matter. Typically, the third molars are the last permanent teeth to erupt, and commonly arrive late onto a jaw already crowded with other teeth. This increases their chances of erupting out of alignment or not erupting at all, remaining completely or partially submerged within the gums.
This latter condition, impaction, can put pressure on the roots of adjacent teeth, can cause abnormal tooth movement resulting in a poor bite, or can increase the risk of dental disease. For that reason, it has been a common practice to remove wisdom teeth preemptively, even if they aren't showing any obvious signs of disease.
In recent years, though, dentists have become increasingly nuanced in making that decision. Many will now leave wisdom teeth be if they have erupted fully and are in proper alignment, and they don't appear to be diseased or causing problems for other teeth.
The best way to make the right decision is to closely monitor the development of wisdom teeth throughout childhood and adolescence. If signs of any problems begin to emerge, it may become prudent to remove them, usually between the ages of 16 and 25. Because of their location and root system, wisdom teeth are usually removed by an oral surgeon through one of the most common surgeries performed each year.
This underscores the need for children to see a dentist regularly, beginning no later than their first birthday. It's also a good idea for a child to undergo an orthodontic evaluation around age 6. Both of these types of exams can prove helpful in deciding on what to do about the wisdom teeth, depending on the individual case.
After careful monitoring throughout childhood and adolescence, the best decision might be to remove them.  If so, take it from Russell Wilson: It's worth becoming the star of a funny video to protect both current and future dental health.
If you would like more information about wisdom teeth removal, please contact us or schedule a consultation. To learn more, read the Dear Doctor magazine article "Wisdom Teeth."